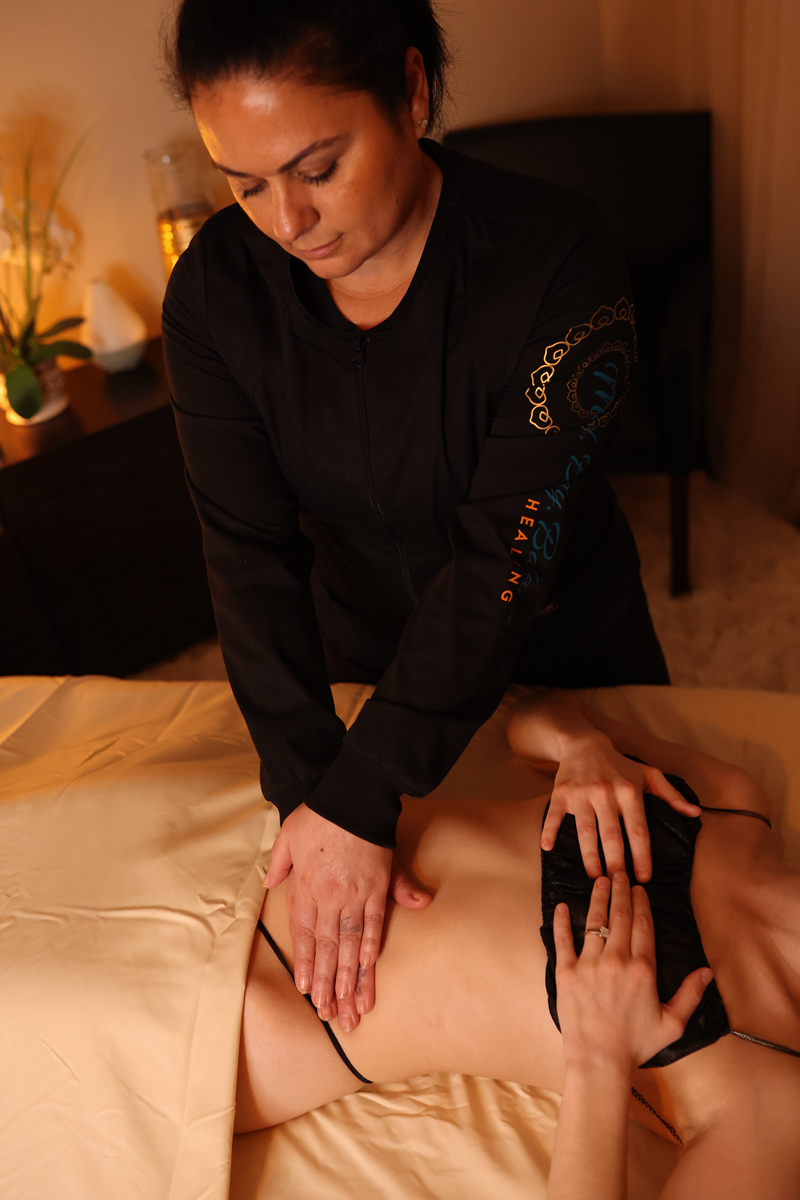 Julie Chebat
Licensed Massage Therapist, Owner & Healer
It all started for me in the fourth grade. My best friend had slept wrong one night and came into school unable to move her neck. She was clearly in pain and I wanted to help, so I began massaging the areas in her neck that felt tense. After a short time, I was able to free it up and relieve her pain.  I will always remember how great it made me feel to help someone and make them feel better.
The medical field has always piqued my interest. I would watch The Discovery Channel on childbirth and ER visits where they had to give emergency surgery whenever they were on. When the Massage institute opened up in the 90's I knew this was my chance to further my education in wellness and follow my childhood passion, but I wasn't able to afford it and they offered no federal aid of loans at the time.
I looked further into these types of classes and landed myself at ECC. I received my associate degree in liberal science with concentrations on biology and psychology. I worked very hard to earn a 4.0 GPA to get a small scholarship to attend Canisius College.
At Canisius I majored in Biology and minored in Psychology in hopes of attending medical school someday. I forced myself to study for 6 to 7 hours a day with my goal of med school in mind. After lots of hard work and sleepless nights in the library, I received a 3.7 GPA, won a spot on the Dean's List and most importantly, proved to myself that with hard work and perseverance, anything is possible.
In the summer of 2001, I married and fell pregnant right away. I had to put med school and my dreams on the back burner to raise a family. In 3 years, my family of 3 become a family of 5, and as my kids grew, I was ready to start thinking about going back to school. I wasn't ignorant to the fact that pre-med and medical school would take a lot of time and dedication, and I also knew that I wasn't willing to sacrifice raising my family to do that.
The next best thing, and my original passion, was to go to massage school! I'd be able to go part-time, work part-time and spend quality time with my family. It was a no-brainer! I'd still be able to work with people and help them heal from physical and mental ailments (although I didn't know it at the time) but even better, with no drugs or chemicals.
After massage school, I knew immediately that I didn't want to work for someone else and have them take 60% of my earnings. I purchased a massage chair and went to local businesses with Wellness Programs and massaged the employees.
It blew my mind how a simple 10-minute massage turned someone's day around! Whether it was an ergonomics issue, sitting at a computer all day on uncomfortable chairs, or an issue with a high-stress work environment, I was able to help them. These people appreciated me and my hands, and for some, it was the only "me" time they had, so I made sure only optimum healing was given during their ten minutes on my chair.
Client after client kept asking me for my card during these visits, and in the summer of 2016, this is what inspired me to open up my own office.
I knew I wanted to offer more than massage therapy for healing, and with my biology and psychology background, I knew that physical and mental went hand in hand. I also found out in my own personal research, studies and experiences that childhood trauma can bring about physical ailments in adulthood furthering this knowledge that the mind and the body are interconnected. I wanted to offer modalities that would deal with the person and not just a part.
I took Reiki I and II courses during the same summer and started practicing on my clients. This seems to help people quite a bit in physical, emotional and spiritual healing. I then took an extensive course in Medical Cupping Therapy, which if not done correctly can really injure an individual, and found that it plays a tremendous role in quicker recovery, detox, cellulite reduction, facial rejuvenation, and sinus issues.
The more I learned, the more passionate I became about what I do, so my education didn't stop there. I recently started taking courses in MAT training with the renowned Freedom From Pain Institute and Myoskeletal Alignment Technique creator, Erik Dalton.
Like me, Erik knows that the body and mind cannot be separated during healing, and that deep pain is connected to the nervous system. With his technique, we change the brain's mind about pain in the body by working on the skeletal system. To relieve pain in someone without the use of harmful medications or even surgeries is an amazing feeling, and I am extremely passionate about sharing this with everyone I can get my hands on, literally.
I'm blessed in the simple fact that I don't ever have to work a single day in my life, because I 110% love what I do. I knew since the tender age of nine that healing people is what pushes me to get out of bed every day and keeps me living my best life over and over again. There really is no better feeling to me, except for the love and appreciation I have for my wonderful family.
Less Pain In My Neck and Back
I had a very nice massage with Julie! On the day after, I'm feeling much less tense and have less pain in my neck and back.
Really Made A Difference
Julie is amazing! I've been dealing with pinched nerves for a while in my back and she really made a difference! She gained a repeat client!
Best I've Ever Had
I was recently referred to Julie by a friend and as a regular massage go-er, I have to say that this massage was one of the best that I've ever had!! You can tell that Julie really takes pride in her craft and really knows how to target the problem areas. My experience here was above and beyond my past visits at some other places. The atmosphere /decor is also very warm and inviting and I found the Chillwave music a refreshing change from the usual "spa music". I can't wait until my next appointment!
You Will Not Be Dissapointed
What an wonderful experience! I have had massages all over the US, in some of the top spas and nothing has compared to this! Being hunched over all day for work, I'm very sore most days so I really needed this! I felt rejuvenated afterwards! Julie has the magic touch! She also pin pointed some areas in my shoulders that were really bothering me by using cupping therapy. I have never had this done before, it really helped tremendously! I would highly recommend calling Julie, you will not be disappointed!
Only Treatment That Gives Me Any Sort Of Relief
Julie is outstanding. I cannot say enough about her! I suffer from chronic migraines and Julie is basically the only treatment that gives me any sort of relief. If you have any sort of pain or stress you need to call her asap
Helped With My Lower Back And Sciatica Pain
Julie was great! The deep tissue massage and cupping really helped with my lower back and sciatica pain. Can't wait for my next visit. I highly recommend her services.