Julie treats patients with at least 2 or three different 
modalities

 during every session.

The modalities used depend on the assessment and preinterview of each individual, and can even vary from session to session to focus on your unique imbalances.

In each session, 100% therapeutic grade Young Living essential oils are used. The specific oil that is used will depend on each individual's needs and will be determined pre-massage.
Medical Cupping
The suction and negative pressure provided by cupping can loosen muscles, encourage blood flow, and sedate the nervous system.
Reiki Healing
Administered by "laying on hands" and is based on the idea that an unseen "life force energy" flows through us and is what causes us to be alive.
Myoskeletal Alignment Technique
With MAT clients can be free from pain, avoiding invasive surgery or toxic pain medications.
Raindrop Technique
A method of using a combination of reflexology, aromatherapy, massage techniques, and essential oils applied on your spine and on the feet.
Swedish Massage Therapy
As the best-known type of bodywork performed today, one of the primary goals of the Swedish massage technique is to relax the entire body.
Myofascial Release
MFR treats skeletal muscle immobility and pain by relaxing contracted muscles, improving blood and lymphatic circulation, and stimulating the stretch reflex in muscles.
Detox By Julie
Through unique lymphatic techniques, our methodology reduces sizes, deflates the body, tones muscles, and boosts the immune system. Results can be seen instantly!
Manual Lymphatic Drainage
MLD is a massage technique that works to encourage the natural movement of lymph fluid through the filtering system of the body.
Wood Therapy
An effortless and efficient way of contouring the body without harming the skin or tissue with the use of wooden tools and massage.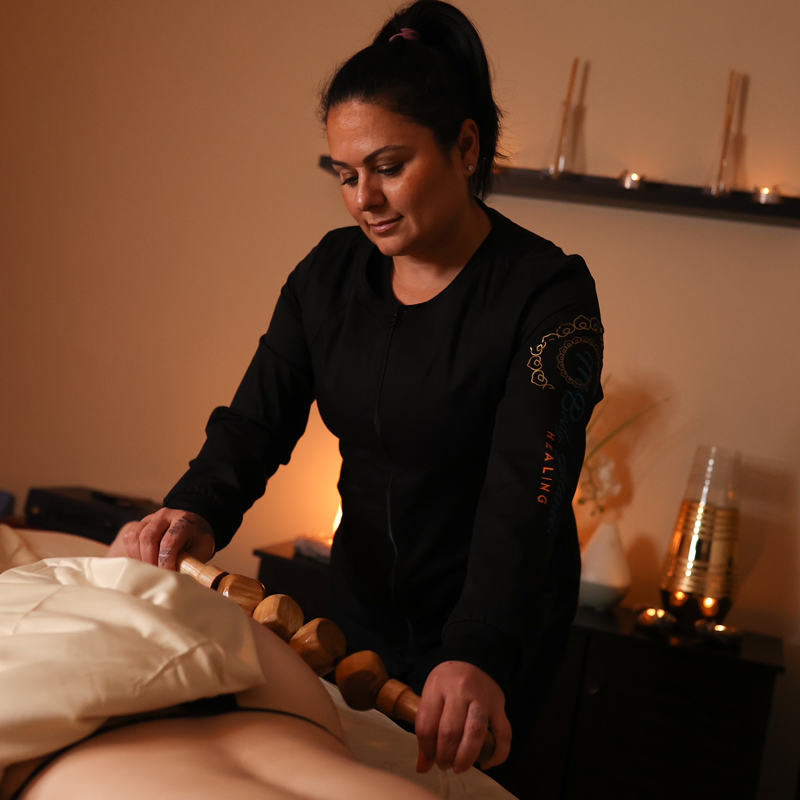 Julie Chebat
Licensed Massage Therapist, Owner & Healer
"I'm blessed in the simple fact that I don't ever have to work a single day in my life because I 110% love what I do."
During Julie's 11 yr career she has worked on many individuals from different walks of life. From a Hollywood movie producer/actor to musicians in bands such as KISS, James, Foreigner, Tears for Fears, Steve Miller Band and Flogging Molly to people in the medical community including ER surgeons, dentists, nurse practitioners and mental health counselors, and lawyers, teachers and restauranteurs.
Less Pain In My Neck and Back
I had a very nice massage with Julie! On the day after, I'm feeling much less tense and have less pain in my neck and back.
Really Made A Difference
Julie is amazing! I've been dealing with pinched nerves for a while in my back and she really made a difference! She gained a repeat client!
Best I've Ever Had
I was recently referred to Julie by a friend and as a regular massage go-er, I have to say that this massage was one of the best that I've ever had!! You can tell that Julie really takes pride in her craft and really knows how to target the problem areas. My experience here was above and beyond my past visits at some other places. The atmosphere /decor is also very warm and inviting and I found the Chillwave music a refreshing change from the usual "spa music". I can't wait until my next appointment!
You Will Not Be Dissapointed
What an wonderful experience! I have had massages all over the US, in some of the top spas and nothing has compared to this! Being hunched over all day for work, I'm very sore most days so I really needed this! I felt rejuvenated afterwards! Julie has the magic touch! She also pin pointed some areas in my shoulders that were really bothering me by using cupping therapy. I have never had this done before, it really helped tremendously! I would highly recommend calling Julie, you will not be disappointed!
Only Treatment That Gives Me Any Sort Of Relief
Julie is outstanding. I cannot say enough about her! I suffer from chronic migraines and Julie is basically the only treatment that gives me any sort of relief. If you have any sort of pain or stress you need to call her asap
Helped With My Lower Back And Sciatica Pain
Julie was great! The deep tissue massage and cupping really helped with my lower back and sciatica pain. Can't wait for my next visit. I highly recommend her services.